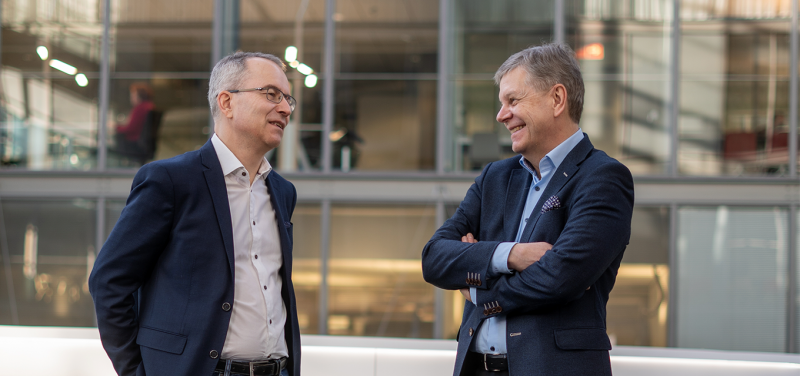 24.02.2022 | Petri Lehto, Director of Policy and Communication at MSD Finland Oy & Antti Viitanen, Nordic Head of Government and Public Affairs at Novartis Nordic
An active innovation policy has the potential to bring health sector growth to Finland
This year, the European Commission will announce its proposal for the revision of European pharmaceutical legislation. As a leader in innovation, Finland must ensure that the Commission's revisions will continue to ensure Europe's competitiveness in the future.
There is a strong connection between the national economy and wellbeing – the economy and health go hand-in-hand. This has been demonstrated during the COVID-19 pandemic. We need both national and EU solutions to help us face pandemics and other health-related challenges. From the perspective of people's health, economic recovery and the competitiveness of Europe as a whole, it is extremely important that the European operating environment encourages research and innovation activities.
This requires international cooperation and a strong EU policy, which is why Finland should also take an active role in the ongoing revision of EU regulation.
In this reform the terms under which new drug or vaccine innovations are granted marketing authorisation on the basis of clinical trials and the incentives offered for the development of new innovations, for example, will be defined. Additional industry requirements or any reductions in incentives will hamper the development that has been achieved in Europe over decades.
A research-based pharmaceutical industry and the health sector as a whole could play a significant role in the economic recovery in Europe as a whole, and also in Finland. The health sector has the potential to bring more research activities and economic growth, more investment in production, more skills and more jobs to our country. In addition, this will give us early access to the latest and effective tools for the prevention, diagnosis and treatment of diseases.
When compared internationally, the health sector's growth strategy is an excellent example of using cooperation between policy areas to promote the sector's growth and innovations. It provides a strong and positive operating environment for the Finnish health sector. Here in Finland we can offer the required competence, technology and cooperation structures that are very important competitive factors that are required by pharmaceutical technology.
Finland has a unique ability to produce reliable health data and further the secure use of this data
The pharmaceutical industry is an important export sector and employer in Europe. If Finland were to take a more active role in the industry policy of the European health sector this could improve Finland's opportunities to attract even more investment in pharmaceuticals and increase research activity, and it could increase exports and the creation of new jobs for highly-skilled individuals.
Finland has always shared the EU's objectives of a competence-based industrial and growth policy, and it is important to continue along these lines. It is now of the utmost importance that Finland ensures that the Commission's reforms guarantee Europe's competitiveness also in the future.
Petri Lehto, Director of Policy and Communication at MSD Finland Oy, committee chairperson, Pharma Industry Finland
Antti Viitanen, Nordic Head of Government and Public Affairs at Novartis Nordic, expert group chairperson, Pharma Industry Finland